Irfan Khan Pathan Hindi: Urdu:عرفان خان پٹھان About this sound pronunciation help·info born October 27, 1984 in Baroda, Gujarat, India is an Indian cricketer who made his debut for India in late-2003 and was a core member of the national team until a decline in form set in during 2006, forcing him out of the team. Since then, he has been in and out of the limited-overs team, and has only sporadic appearances in Test cricket.
Beginning his career as a left-arm fast-medium swing bowler, Pathan broke into the national team soon after turning 19, and evoked comparisons with Pakistan's Wasim Akram, regarded as one of the finest left-arm pacemen of all time, with his promising performances and prodigious swing. He cemented his position in the team and was named by the International Cricket Council as the 2004 Emerging Player of the Year. In late-2004 he took 18 wickets in two Tests against Bangladesh, but the start of 2005 he performed poorly and conceded runs at a high rate, leading to a brief exile from the one-day international ODI team. Immediately thereafter, Australian Greg Chappell, one of the leading batsmen of his time, became India's coach and identified Pathan's batting potential. The bowler improved his batting skills to become a bowling all-rounder, and he opened the batting on occasions in ODIs and scored 93 in a Test match in the role after an illness to Virender Sehwag. He made three scores beyond 80 in the space of four Test innings. For the first nine months of Chappell's stint at the helm, Pathan performed strongly with both bat and ball, scoring runs regularly and frequently taking top-order wickets. He rose to No. 2 in the ICC's ODI rankings for all-rounders and was also in the top five in the Test rankings. This led critics to compare him to former Indian pace bowling allrounder Kapil Dev.In early 2006, Pathan became the first and only bowler to take a Test hat-trick in the first over of the match. However, the productive run did not last and after the start of 2006, Pathan began to steadily lose pace and swing, and his wicket-taking dwindled. Although Pathan's batting continued to be productive, he was not regarded as a specialist and was dropped from the team in both Tests and ODIs by the end of 2006, and by 2007 was no longer in the squad.
He returned to international cricket in September 2007 for the inaugural World Twenty20, where he took three wickets and was man of the match as India beat Pakistan in the final. This earned him a recall into the ODI team, where he was a regular for most of the next 12 months before being dropped as his economy rate continued to trend upwards. In late-2007 Pathan was recalled into the Test team and hit his maiden Test century, but could not maintain his place in the team as his bowling was not effective enough with only two pacemen needed. He continues to perform with both bat and ball at domestic level, although his sedate pace is frequently criticised as being irrelevant at international level.
Ever since Anil Kumble retired and Harbhajan Singh's dipping offspin form, India has been devoid of a strike bowler especially in the leg spin bowling domain. It has been suggested to Irfan Pathan that he step in place of Anil Kumble and learn the art of leg spin bowling. It has also been suggested to him that at his current pace and with the added guile of spin, he can prove to be a more than handful all rounder that India badly seeks. Currently, Irfan Pathan is practicing these skills and waiting for a recall to the National Team.
Contents
* 1 Early years
* 2 Senior beginnings
* 3 Early international career
* 4 Chappell era
* 5 International omission
* 6 International comeback
* 7 Back on the fringes
* 8 Statistics
o 8.1 Test Centuries
o 8.2 Test 5-Wicket Hauls
o 8.3 One Day International 5-Wicket Hauls
* 9 Awards
* 10 References
Early years
Pathan grew up with his half-brother Yusuf in a mosque in Baroda, in an impoverished family. His father served as the muezzin. Although their parents wished them to become Islamic scholars, Pathan and his brother took an interest in cricket. Their games on the grounds off and inside the mosque often necessitated apologies from their father to Muslim worshippers who visited it. In the beginning his deliveries did not reach the other end of the cricket pitch, but rigorous six-hour training sessions in blazing heat and his family's sense of discipline saw him progress steadily. Under the guidance of former Indian captain Datta Gaekwad, Pathan rose to get selected in the Under-14 Baroda cricket team, and when he was selected at Under-15 level to represent Baroda in a national tournament, he was finally presented with a full set of cricket equipment, having before been restricted to second-hand gear due to his family's limited economic means.
In December 1997, Pathan broke into the Baroda Under-16 team,less than two months after turning 13. He took a total of 1/35 and scored 1 and 11 against Gujarat and was dropped immediately afterwards. He did not play again for the Under-16s for two years, and in November 1999, less than a month after turning 15, he made his next appearance, this time for Baroda Under-19s against Maharashtra. He scored 61 and 9 and took a total of 3/41 in a victory, but was immediately dropped back to the Under-16s for the next match, and spent the rest of the 1999–2000 season there. He bowled short spells in the younger division, taking four wickets at 38.00 in six matches, averaging less than seven overs an innings. He had more success with the bat, scoring 253 runs at 31.62 including a best of 72 against Mumbai.
Pathan was then selected for the India Under-15 team in mid-2000 to play a series of matches against their colleagues from other countries. He took 15 wickets at 12.66 in ten matches, including a best of 3/2 against Thailand, and scored 15 runs at 7.50India won all but one of the matches, most by enormous margins
At the start of the 2000–01 season, Pathan was immediately back in the Under-19s, this time bowling more, often delivering more than 20 overs per innings. In four matches, he scored 102 runs at 102.00 including a best of 63 not out, and took 10 wickets at 32.50. He was then promoted to the Under-22s, where he scored 44 and took 4/71 in his first match against Saurashtra, prompting the Baroda selectors to propel him into the senior team.
Senior beginnings
Pathan made his first-class debut against Bengal in March 2001, after fellow left-arm paceman Zaheer Khan was selected for the national team. He scored 13 not out and 2, and took 3/40 and 2/68 in a 222-run win. However, he was unable to repeat this form in the three remaining matches, taking only two more wickets in total, but Baroda nevertheless managed to win the Ranji Trophy. He ended his maiden season with seven wickets at 43.28 and 75 runs at 12.50 with a best score of 40 not out against Orissa
The Ranji win saw Baroda qualify for the following season's Irani Trophy where they took on the Rest of India. Pathan scored 32 in the second innings and took 3/95 and 1/34 in a defeat, but his performance reminded Test batsman V. V. S. Laxman of ZaheerHowever, he was omitted from the senior team and sent back to the Under-19s the next week and stayed there for the next two month, playing eight double-innings matches for Baroda. He took 20 wickets at 20.40, including a best of 6/41 against Gujarat, and scoring 190 runs at 31.66 with a best of 63 not out. Pathan was then recalled to the senior team and made his List A debut against Mumbai, taking 1/69 from nine overs. Pathan further honed his bowling at the MRF Pace Foundation in Chennai, after being referred by Indian selector Kiran More
In early-2002, he was selected for the Under-19 Cricket World Cup in New Zealand, where he took six wickets at 27.50 and scored 30 runs at 15.00, taking 2/18 in a win over South Africa
Upon returning to India, Pathan was selected in a senior zonal team for the first time. He was selected for West Zone for the Duleep Trophy, even though he had not played a single match for Baroda in the Ranji Trophy season. He immediately repaid the selectors' faith by taking 4/74 and 6/72, his first ten-wicket match haul, in the first fixture against Central Zone, setting up a 161-run win. In the next match, he took 4/72 and 3/85 as West defeated North by 178 runs.He only took 1/55 in the next match against South but West were through to the final, where he took 4/43 to help cut down East Zone for 162 in the first innings, sealing the title In all Pathan, had taken 22 wickets at 18.22 for the tournament, and scored 46 runs at 11.50.
These performances propelled Pathan into the India A team at the age of 17 and a half, for a tour of Sri Lanka, where he took six wickets at 35.00 in three first-class matches. Pathan then went on an India Under-19 tour of England in mid-2002. He took 15 wickets at 25.93 in the three youth Tests, which India lost 1–0, with a best of 4/83 in the Second Test He then took four wickets at 42.00, conceding more than six runs an over, and scored 66 runs at 33.00 in the three youth ODIs, which India won 2–1
Pathan was rewarde with selection in the Rest of India team that played against Railways in the Irani Trophy at the start of the 2002–03 season. He took a total of 2/84 and scored 29 as the Ranji champions prevailed. struggled in the Ranji Trophy, taking 18 wickets at 39.33 in seven matches. Half of his wickets came in one match against Orissa in which he claimed 6/31 and 3/46 in an innings victoryHe scored 161 runs at 23.00, with a 54 against Tamil Nadu being his maiden first-class fifty, as well as two other forties Despite a lack of wickets for Baroda, Pathan was selected for the Duleep Trophy, playing for Elite Group A. He took 5/88 and 4/106 against Plate Group A and 4/101 against Elite Group C, before taking 3/53 and 2/42 as Elite Group A defeated Elite Group B in the final by seven wickets. Pathan ended the tournament with 19 wickets at 27.00 and scored 72 runs at 24.00. the one-dayers, Pathan also struggled for Baroda, taking three wickets at 64.66 in four matches at an economy rate of 4.85, but he was nevertheless selected for the zonal team, where he took four wickets at 34.25 in four matches at an economy rate of 3.91
In 2003 he was selected for the India A team which travelled to England. Playing in five first-class matches, Pathan took nine wickets at 43.77, including 4/60 against Yorkshire and 3/83 against South Africa. He managed only 8 runs at 4.00 with the bat. He had more success in the limited-overs matches, taking eight wickets at 11.12 in three matches, including a 4/19 against Lancashire, and scoring 27 runs at 27.00
Irfan Pathan
Irfan Pathan
Irfan Pathan
Irfan Pathan
Irfan Pathan
Irfan Pathan
Irfan Pathan
Irfan Pathan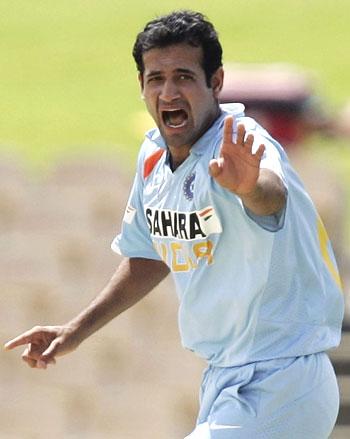 Irfan Pathan
Irfan Pathan
Irfan Pathan
Irfan Pathan
Irfan Pathan
Irfan Pathan
Irfan Pathan
Irfan Pathan
Irfan Pathan
Irfan Pathan
Irfan Pathan
Irfan Pathan