Shane Keith Warne born 13 September 1969 is a former Australian international cricketer widely regarded as one of the greatest bowlers in the history of the game.In 2000, he was selected by a panel of cricket experts as one of the five Wisden Cricketers of the Century, the only specialist bowler selected in the quintet and the only one still playing at the time. He is also a cricket commentator and a professional poker player.
Warne played his first Test match in 1992, and his 708 wickets was the record for the most wickets taken by any bowler in Test cricket, until it was broken by Sri Lanka's Muttiah Muralitharan on 3 December 2007. He took over 1000 international wickets Tests and One-Day Internationals he was the second bowler to reach this milestone after Muttiah Muralitharan.A useful lower-order batsman, Warne also scored over 3000 Test runs, and he holds the record for most Test runs without a century. His career was plagued by scandals off the field; these included a ban from cricket for testing positive for a prohibited substance, and charges of bringing the game into disrepute through accepting money from bookmakers and marital infidelities.
As well as Australia, he also played Australian domestic cricket for his home state of Victoria, and English domestic cricket for Hampshire. He was captain of Hampshire for three seasons, from 2005 to 2007.
He retired from international cricket in January 2007, at the end of Australia's 5-0 Ashes series victory over England. Three other players integral to the Australian team at the time, Glenn McGrath, Damien Martyn and Justin Langer, also retired from Tests at the same time which led some, including the Australian captain, Ricky Ponting, to declare it the "end of an era"
Following his retirement from international cricket, Warne played a full season at Hampshire in 2007. He had been scheduled to appear in the 2008 English cricket season, but in late March 2008 he announced his retirement from playing first-class cricket in order to be able to spend more time pursuing interests outside of cricket. In March 2008, Warne signed to play in the Indian Premier League for the Jaipur team, Rajasthan Royals in the first edition of the tournament, where he played the roles of both captain and coach. He led his team to victory against the Chennai Super Kings in a cliffhanger of a final match on 1 June 2008. After the innings defeat of Australia in Adelaide in Ashes 2010, a website was launched by fans calling for his comeback. The website has also created a fund for the sole purpose of bringing Warne back into international cricket
Contents
* 1 Youth and early cricket career
o 1.1 First-class debut
* 2 International career
o 2.1 Early international career
o 2.2 Ban from cricket
o 2.3 Return to cricket
o 2.4 International retirement
* 3 Indian Premier League
* 4 Playing style and influence
* 5 Controversies
o 5.1 Bookmakers
o 5.2 Newspaper column
* 6 Outside cricket
o 6.1 Media
o 6.2 Endorsements
* 7 Personal life
o 7.1 Marital infidelities
* 8 Recognition
* 9 Test wicket milestones
* 10 See also
* 11 References
o 11.1 Notes
o 11.2 Sources
* 12 External links
Youth and early cricket career
Warne's first representative honours came when in 1983/84 season he represented University of Melbourne Cricket Club in the then Victorian Cricket Association under 16 Dowling Shield competition. He bowled a mixture of leg-spin and off-spin and was also handy lower order batsman. The following season he joined the St Kilda Cricket Club near his home town of Black Rock. He started in the lower elevens and over a number of seasons progressed to the first eleven. He was later chosen to train at the Australian Cricket Academy in Adelaide.
Warne joined English team Accrington Cricket Club in 1991. He enjoyed a good season with the ball, taking 73 wickets at 15.4 each, but scored only 330 runs at an average of 15.0. The committee at Accrington Cricket Club decided not to re-engage him for the 1992 Lancashire League season as he was seen not to be good enough
First-class debut
Warne made his first-class cricket debut on 15 February 1991, taking 0/61 and 1/41 for Victoria against Western Australia at the Junction Oval in Melbourne. He was then selected for the Australia B team which toured Zimbabwe in September 1991. His best performance was 7/52 in a four-day match. Upon returning to Australia, Warne took 3/14 and 4/42 for Australia A against India in December 1991. The incumbent spinner in the Australian Test Team, Peter Taylor, had taken only one wicket in the first two tests, so Warne was brought into the team for the Third Test against India at the Sydney Cricket Ground a week later.
International career
Early international career
Wiki letter w cropped.svg This section requires expansion with:
examples and descriptions covering the period 1993-2003.
Warne had an undistinguished Test debut, taking 1/150 (Ravi Shastri caught by Dean Jones for 206) off 45 overs, and recorded figures of 1/228 in his first Test series; he took 0/78 in the Fourth Test in Adelaide and was dropped for the Fifth Test on the pace-friendly WACA Ground in Perth. His poor form continued in the first innings against Sri Lanka at Colombo, in which he recorded 0/107. However, a spell of 3/11 in the second innings precipitated the hosts' second innings collapse and contributed to a remarkable Australian win.
However, Warne's performances in the last two Tests in Sri Lanka were not to the satisfaction of the selectors, and he was dropped for the First Test against the West Indies in the 1992–93 Australian season. Greg Matthews played in Warne's place and despite Australia being in a strong position on the final day, was unable to dismiss the tourists on a turning surface. Warne was thus recalled for the Second Test in Melbourne, where he took 7/52 in a match-winning performance in the second innings.
Ban from cricket
Shane Warne
Shane Warne
Shane Warne
Shane Warne
Shane Warne
Shane Warne
Shane Warne
Shane Warne
Shane Warne
Shane Warne
Shane Warne
Shane Warne
Shane Warne
Shane Warne
Shane Warne
Shane Warne
Shane Warne
Shane Warne
Shane Warne
Shane Warne
Shane Warne
Shane Warne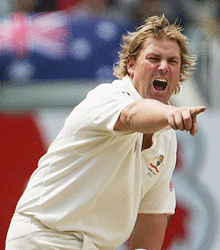 Shane Warne
Shane Warne
Shane Warne
Shane Warne
Shane Warne
Shane Warne
Shane Warne
Shane Warne