Shaun William Tait born 22 February 1983 in Bedford Park, Adelaide, South Australia is a professional Australian cricketer. Tait plays domestic cricket for South Australia and is also a representative for Australia at One Day International and Twenty20 International level. He is a right arm fast bowler
Contents
* 1 Bowling style
* 2 Domestic career
o 2.1 First-class cricket
o 2.2 List A cricket
* 3 International career
o 3.1 Test cricket
o 3.2 One Day Internationals
* 4 Sabbatical
* 5 2010-11
* 6 Awards
* 7 References
* 8 External links
Bowling style
Tait's delivery action is unique and marked by significant lateral twisting of the spine. The 'slingy' nature of his action has led to comparisons with former Australian fast bowler Jeff Thomson. Dubbed "The Wild Thing", Tait is considered one of the fastest bowlers in the worldand delivers the ball with phenomenal speed, at around 150 km/h, and occasionally faster.At T20 international on 5 February 2010 against Pakistan Tait recorded a ball measured at 160.7 km/h, the fastest ball ever bowled in Australia. Despite his speed, Tait has often been described as "erratic" and is capable of bowling many extras.His unpredictability, however, is seen as a weapon to some, and his exceptional strike rate seems to confirm this. Tait has also been criticised as "expensive" however others have mentioned that this is irrelevant, as his main role as a "strike bowler" is to take wickets rather than keep the run rate down.
After a Twenty20 match against New Zealand on 11 December 2007, in which Tait troubled the batsmen and took 2/22,New Zealand captain Daniel Vettori and coach John Bracewell publicly raised doubts over the legality of Tait's bowling actionait labelled the comments as a "disgrace" and added that he'd be willing to undergo tests to prove his action is legal.Only two days after Vettori made them, he was dismissed by Tait in the opening match of the Chappell-Hadlee Trophy.
Domestic career
First-class cricket
Tait has represented South Australia for a majority of his first-class career, however has also played matches for Australia A and Durham He has taken over 150 first-class wickets at a strike rate of under 50
At the age of nineteen, Tait made his first-class debut for South Australia against Western Australia on 19 December 2002 at the Adelaide Oval. He only bowled in one innings on his debut, yet finished with respectable figures of 3/77 off 22.2 overs. Tait played 5 games in his first season, taking 20 wickets at an average of 22.55.As a result of his strong first season, Tait was awarded with a place at the Australian Cricket Academy alongside such players as Ben Hilfenhaus and Luke Ronchi
In the 2003–04 season, an in form Tait was selected in the Australia A team to take on the touring Indians. Tait took 3/85 in the Indians first innings, including the wicket of Virender SehwagTait once again had a strong Pura Cup season, taking 30 wickets at 28.33.This helped earn Tait Bradman Young Cricketer of the Year for 2004. He was further rewarded as he was named in Australia's squad to tour Sri Lanka after Brett Lee was ruled out through injury.While he did not play a match on the tour, his inclusion signalled that the Australian selectors saw him as a prospect for the future.
July 2004, Tait was signed by Durham for the second half of the English County Championship season.His first match was against a Somerset side captained by Ricky Ponting. His County debut was a poor one and saw him take 0/113 off 12 overs including 21 no ballsTait only played one more first-class match for Durham before flying home again.
Tait was rewarded with his first Cricket Australia contract for the 2004–05 season, being included ahead of Queensland fast bowler Andy Bichel. repaid the selector's faith in him by having his best Pura Cup season to date. He took 65 first-class wickets at an average of 20.16,surpassing Clarrie Grimmett's record for most wickets in a season for a South Australian bowler Perhaps Tait's best performance of the season was his spell of 7/99 against Queensland at the Adelaide Oval in November 2004 in which he claimed the wickets of Australian representatives Andrew Symonds, Shane Watson, James Hopes, Jimmy Maher, Andy Bichel and Nathan HauritzHis record breaking season helped him gain a place on the Australian 2005 Ashes tourOn this tour, Tait made his Test debut, and played one other first-class match against Worcestershire.
Tait missed the opening half of the 2005–06 Pura Cup season with an injury to his right shoulder which he sustained on the 2005 Ashes tour.He struggled on his return taking only 14 wickets at 38.35 in the 4 matches he played Despite this, Tait was still named a part of the Australia A squad to play in the 2006 Top End Series. While he failed to pick up any wickets against Pakistan A,he managed to take 3/67 in India A's first innings.Tait also had a strong first-class season in 2006–07 taking 29 wickets at 27.10.He also played a first-class match against the touring English side and took 3/87, including the wickets of Andrew Strauss and Ian BellDue to his good season, he won the Lord Hampden Trophy for South Australia's best player for 2006–07.
An elbow injury kept Tait out for the opening parts of the 2007–08 Pura Cup season,however upon recovery a match against Queensland at the Brisbane Cricket Ground saw him take his first 10 wicket haul in first-class cricket. He took 3/69 in the first innings and 7/29 in the second, his best ever first-class figures.
List A cricket
Tait made his List A debut on 1 February 2003 for South Australia against Western Australia. South Australia lost the match and Tait failed to take a wicket, however he was economical in his 7 overs, taking 0/29While he only played one more List A match in the 2002-03 season, Tait was an important fixture for South Australia in the 2003–04 season.
Tait was South Australia's leading wicket taker, and the second leading wicket taker overall in the 2003–04 ING Cup with 18 wickets at an average of 19.61. The highlight of the season for Tait was undoubtedly his record breaking haul of 8/43 against Tasmania on 9 January 2004.These were the best ever figures by an Australian in List A cricket, and the 8th best List A figures of all time.n the same season Tait played a One Day match for the Prime Minister's XI against the touring Indians in a team captained by Steve Waug and was also a part of the Australia A team that took on Zimbabwe in January 2004.2004–05 saw Tait lead the wicket-taking list in the ING Cup as he took 21 wickets at an average of 19.90,and in 2005–06 his 14 wickets at 13.28 assisted South Australia in reaching the final.Despite the Redbacks losing the final by 1 wicket, Tait provided an excellent performance after his team posted a relatively small target of 154, claiming 6/41 off 10 overs.
In 2006–07, Tait once again earned selection for Australia A for the Top End Series against Indian and New Zealand A sides, and claimed 12 wickets at 21.08 during the Ford Ranger Cup. was once again consistent in the 2007–08 Ford Ranger Cup, taking 12 wickets at 18.91 in the 5 matches he played
Shaun Tait
Shaun Tait
Shaun Tait
Shaun Tait
Shaun Tait
Shaun Tait
Shaun Tait
Shaun Tait
Shaun Tait
Shaun Tait
Shaun Tait
Shaun Tait
Shaun Tait
Shaun Tait
Shaun Tait
Shaun Tait
Shaun Tait
Shaun Tait
Shaun Tait
Shaun Tait
Shaun Tait
Shaun Tait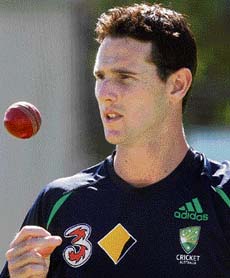 Shaun Tait
Shaun Tait
Shaun Tait
Shaun Tait
Shaun Tait
Shaun Tait
Shaun Tait
Shaun Tait
Shaun Tait