-faced assassin", he played 366 times for the Red Devils and scored 126 goals during a very successful period for the club. He was recognised as a "super sub" for his knack of coming off the bench to score late goals. Solskjær's defining moment in football came in injury time of the 1999 UEFA Champions League Final where he scored the winning last-minute goal against Bayern Munich, completing a remarkable comeback and winning The Treble for United.
Before he moved to England, Solskjær completed a year's national service in the Norwegian Army and played part time for Third Division Norwegian Clausenengen FK, later moving to Norwegian Premier League Molde FK in 1994. He joined United in 1996, for a transfer fee of £1.5 million. He is a patron of the Manchester United Supporters' Trust formerly Shareholders United
In 2007, Solskjær announced his retirement from football after failing to recover from a serious knee injury. However, Solskjær remained at Old Trafford in a coaching role, as well as in an ambassadorial capacity. In 2008, Solskjær became Manchester United's first full-time reserve team manager since 2006, taking over from Brian McClair and Jimmy Ryan, who had filled the role in a caretaker capacity. He also supervises a training academy for young footballers in his home town of Kristiansund.
Contents
* 1 Playing career
1.1 Club career
1.1.1 Early career
1.1.2 Early Manchester United years
1.1.3 Injury-plagued seasons
1.1.4 Back from injury
1.1.5 Testimonial
1.2 International career
1.2.1 International goals
* 2 Managerial career
o 2.1 First step into coaching
o 2.2 Molde
* 3 Personal life
* 4 Career statistics
* 5 Honours
o 5.1 Player
o 5.2 Manager
o 5.3 Individual
* 6 References
* 7 External links
Playing career
Club career
Early career
Solskjær first played for Clausenengen and impressed in the Otta Cup as a 17-year-old with 17 goals in six matches. He then joined Molde in 1995 and scored 20 goals in his first season in the Norwegian Premier League.
Early Manchester United years
Solskjær had scored 31 goals in 42 matches for Molde in the Norwegian Premier League, and he did not disappoint at the start of his Manchester United career, scoring six minutes into his debut as a substitute against Blackburn Rovers in the Premier League in the 1996–97 seasoHe had joined United on 29 July 1996 for a fee of £1.5 million, being something of a surprise acquisition as he was almost unknown outside his homeland and at the time United were still in the hunt for Blackburn Rovers and England striker Alan Shearer, who then joined Newcastle United for a world record £15 million. As the only striker to arrive at Old Trafford that year, it was widely expected that his first season would be spent as a backup to Eric Cantona and Andy Cole with only occasional first team opportunities. But within weeks of his arrival it was clear that he would be a key part of the first team sooner than had been anticipated, and would also prove himself to be one of the biggest Premier League bargains of the season
He was issued with the number 20 shirt previously worn by Dion Dublin and then by Gary Neville upon his arrival; it was a squad number he would retain for the rest of his Manchester United career.
Solskjær scored 18 Premier League goals for United in his first season, helping United win the title in the last weeks of the season. The British media nicknamed him the "Baby-Faced Assassin" because of his youthful looks and his deadly finishing. He will perhaps be best remembered as a "super-sub", having earned wide acclaim for a remarkable habit of coming into matches late on as a substitute and scoring goals. Alex Ferguson remarked that Solskjær has a knack of sitting on the bench and studying the game without taking his eye off the action. One of his most impressive feats was coming off the bench to score four goals in the last 12 minutes of United's 8–1 thrashing of Nottingham Forest. He scored another four goals in a match a season later against Everton in a 5–1 victory.
Solskjær stayed at Old Trafford even though other clubs showed interest in the player in 1998. He even refused an offer from Tottenham Hotspur, after Manchester United had accepted a bid for him. The Norwegian went on to score the winning goal in the 1999 UEFA Champions League Final, helping the team secure the Treble and cementing his own place in the United folklore. Another defining moment in his career, was in the end of the league match against Newcastle in 1998. The match was tied at 1–1, and Manchester United needed at least a draw to keep up with Arsenal in the race for the league title. Near the end of the game, Newcastle's Robert Lee had a clear goalscoring opportunity, running unopposed towards United's goal, but Solskjær had run across the entire field to commit a professional foul against him, thus denying Newcastle a winning goal. Solskjær did this knowing he would be sent off, and suspended for the coming matches. Supporters regarded this as a perfect example of how Solskjær put the club above purely personal interest.
These feats made him a favourite among the United supporters, inspiring songs such as "Who Put the Ball in the Germans' Net?" and "You Are My Solskjær". Even when he had been absent on the pitch for a long time due to injury, United fans would still fill matches with chants sung in Solskjær's honour.
After a few years of coming on as the super-sub, Solskjær got a chance as a starter in the 2001–02 season, paired up with Dutch striker Ruud van Nistelrooy. He took the opportunity with characteristic incisiveness, forcing Andrew Cole and Dwight Yorke onto the bench.
By 2002–03, after both Andrew Cole and Dwight Yorke had left Old Trafford, Solskjær had only Diego Forlán and Van Nistelrooy to compete with for a place in the starting line-up. Still, Ferguson's persistence in playing Van Nistelrooy up front with Paul Scholes, or as a lone striker, meant that opportunities were limited.Solskjær was subsequently given his time again when David Beckham picked up an injury and Ferguson played the Norwegian on the right wing. While proving himself to be an able crosser of the ball, Solskjær also popped up with goals, scoring a total of 16 goals in the season. He was selected to play on the right in important matches, such as in the league game against Arsenal and the Champions League quarter-final against Real Madrid, while Beckham was left on the bench. He also captained the team in a number of matches.
Solskjær played for Norway in the 1998 FIFA World Cup and the Euro 2000. He collected a total of 67 international caps.
-plagued seasons
At the start of 2003–04, Solskjær found himself as United's first-choice right winger. However, a knee injury suffered against Panathinaikos on 16 September 2003 put Solskjær out of action until February 2004. Solskjær returned from the injury for the season run-in and was man of the match in the FA Cup Semi Final victory over Arsenal. He also played in the 2004 FA Cup final, which the club won. Solskjær was forced to undergo intensive knee surgery in August 2004 and had to miss the 2004–05 season entirely. While he eventually recovered his fitness, it was difficult for the 32-year-old to carve his niche again among the heavy-weight attack of Manchester United. The Old Trafford faithful, however, displayed almost fanatical loyalty in their desire to see Solskjær in action again.
To show their continuing support, fans added a banner to the collection that lines the Stretford End reading "20 LEGEND Solskjær wore number 20 for United Solskjær further solidified his status amongst United fans when he became a patron of the supporters action group, Manchester United Supporters Trust MUST previously Shareholders United.
Back from injury
Solskjær made his long-awaited return to action on 5 December 2005, playing for United's reserves against Liverpool Spectators numbering 2,738 showed up to witness the comeback of the popular Norwegian – an above-average turn-out for a reserve team match. He made his first-team return as a substitute in the match against Birmingham City on 28 December. He then finally made his first start more than a year later in the FA Cup match against Burton Albion, before playing a full game as a captain in the replay. His return to full fitness slowly continued with regular appearances in the reserves, until on 8 March 2006 when, during a game against Middlesbrough, he was accidentally caught by Ugo Ehiogu, breaking his cheekbone. While facing the possibility of missing the rest of the season he nevertheless appeared as a substitute against Sunderland on Good Friday.
Solskjær
Solskjær had a very successful pre season tour in the summer of 2006 gaining Ferguson's praise who also said he would reconsider his plan to buy a new striker He returned to Premier League action on 23 August 2006 when he scored in an away match against Charlton Athletic, his first Premier League goal since April 2003. Ferguson commented after the match that "it was a great moment for Ole, United fans everywhere, the players and the staff" and that "Ole has been through a torrid time with injuries for the last two years, but he's persevered and never lost faith and has got his repayment tonight. Everyone is over the moon for him." He continued his come-back by putting in the winning goal in the Champions League clash with Celtic on 13 September, fulfilling his post-injury ambition to score another goal at Old Trafford. Solskjær's first Premier League goal at Old Trafford since his return came on 1 October when he netted both goals in the 2–0 win against Newcastle United. His goalscoring form continued with when he started the away match against Wigan Athletic and struck a sublime finish to round off a 3–1 victory, and again against Crewe Alexandra on 25 October 2006, scoring the first of a 2–1 victory. After a further injury sustained in Copenhagen, Solskjær again returned on form scoring the third goal in the 3–1 win over Wigan on Boxing Day. Solskjær continued his form by scoring United's opening goal in their 3–2 win over Reading on the 30 December. Additionally, he came on as a substitute to score an injury-time winner in the 2–1 victory over Aston Villa in the 3rd Round of the FA Cup on 7 January 2007.
After a match against Reading, Solskjær had further surgery on his knee. However, it was not as serious as his previous operations, and he was put out of action for only a month. He was predicted to be available for the 31 March game against Blackburn Rovers. United boss Alex Ferguson said: "It was good timing with the international break coming up. It gave us the opportunity to get the thing done." Solskjær did make his comeback from injury against Blackburn Rovers as a late substitute, and even scored in the 89th minute to seal Manchester United's 4–1 win. His last match was the FA Cup Final against Chelsea, but who could not end in victory after a extra-time goal from Didier Drogba.
On 5 June 2007, it was announced that Solskjær had undergone minor surgery after he reported discomfort in his knee while training with Norway. The surgery was a success, but Solskjær failed to fully recover and announced his retirement from professional football on 27 August 2007. Finally, on 4 September at the home game against Sunderland, his retirement was officially announced over the Old Trafford tannoy, with Solskjær walking onto the pitch to a standing ovation. As of his retirement, Solskjær holds the record for the most goals scored for Manchester United as a substitute, scoring 28 goals off the bench
Testimonial
On 2 August 2008, a testimonial was played in honour of Solskjær at Old Trafford against Espanyol. Over 68,000 fans were present as United eventually got the winner from substitute Fraizer Campbell. Solskjær appeared in the 68th minute, replacing Carlos Tévez. He hit the target three times and was credited for his role in influencing the young Campbell's play.[9] At the end of the game, he addressed the fans with a speech, thanking the staff, players, fans and his family.
Testimonial Solskjær in actiInternational careerSolskjær made his international debut in a friendly game against Jamaica on 26 November 1995, just a few months before he joined Manchester United. The game finished in a 1–1 draw with Ole Gunnar scoring the only goal for Norway. He continued his great goal scoring start by scoring three goals during his first competitive appearances for the national team during the 1998 World Cup qualifying campaign.
Solskjær played in both the 1998 FIFA World Cup and Euro 2000 for Norway. He formed a feared partnership with international team mate and ex Chelsea striker Tore Andre Flo which was seen as one of the best striking partnerships in Norway's history.
Following his lengthy layout to injuries Solskjær made his full game comeback on 2 September 2006, when he scored the first and last goals in a 4–1 win against Hungary in a Euro 2008 qualifying match. They would be his last goals for the national team taking his tally up to 23 goals.
He made what proved to be his final appearance for Norway against Croatia in February 2007, finishing with a record of 67 appearances.
International goals
Ole Gunnar Solskjær: International Goals # Date Venue Opponent Score Result Competition
1 26 November 1995 Kingston Jamaica 1–1 Draw Friendly
2 27 March 1996 Windsor Park, Belfast Northern Ireland 2–0 Win Friendly
3 2 June 1996 Ullevaal Stadion, Oslo Azerbaijan 5–0 Win 1998 FIFA World Cup qual.
5 30 April 1997 Ullevaal Stadion, Oslo Finland 1–1 Draw 1998 FIFA World Cup qual.
6 25 March 1998 King Baudouin Stadium, Brussels Belgium 2–2 Draw Friendly
7 27 May 1998 Molde stadion, Molde Saudi Arabia 6–0 Win Friendly
8
9 27 March 1999 Olympic Stadium Athens Greece 2–0 Win UEFA Euro 2000 qual.
10
11 28 April 1999 Tblisi Georgia 4–1 Win UEFA Euro 2000 qual.
12 8 September 1999 Ullevaal Stadion, Oslo Slovenia 4–0 Win UEFA Euro 2000 qual.
13 9 October 1999 Daugava Stadium, Riga Latvia 2–1 Win UEFA Euro 2000 qual.
14 27 May 2000 Ullevaal Stadion, Oslo Slovakia 2–0 Win Friendly
15 24 March 2001 Ullevaal Stadion, Oslo Poland 2–3 Defeat 2002 FIFA World Cup qual.
16 28 March 2001 Minsk Belarus 1–2 Defeat 2002 FIFA World Cup qual.
17 15 August 2001 Ullevaal Stadion, Oslo Turkey 1–1 Draw Friendly
18 14 May 2002 Ullevaal Stadion, Oslo Japan 3–0 Win Friendly
19 22 May 2002 Aspmyra stadium, Bodø Iceland 1–1 Draw Friendly
20 2 April 2003 Luxembourg City Luxembourg 2–0 Win UEFA Euro 2004 qual.
21 11 June 2003 Ullevaal Stadion, Oslo Romania 1–1 Draw UEFA Euro 2004 qual.
22 2 September 2006 Budapest Hungary 4–1 Win UEFA Euro 2008 Qual.
23
Ole Gunnar Solskjaer
Ole Gunnar Solskjaer
Ole Gunnar Solskjaer
Ole Gunnar Solskjaer
Ole Gunnar Solskjaer
Ole Gunnar Solskjaer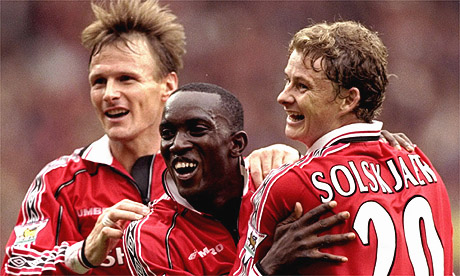 Ole Gunnar Solskjaer
Ole Gunnar Solskjaer
Ole Gunnar Solskjaer
Ole Gunnar Solskjaer
Ole Gunnar Solskjaer
Ole Gunnar Solskjaer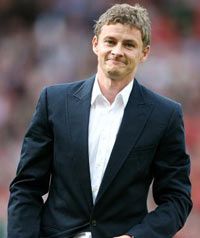 Ole Gunnar Solskjaer
Ole Gunnar Solskjaer
Ole Gunnar Solskjaer