Mitchell Guy Johnson born 2 November 1981 in Townsville, Queensland is an Australian cricketer. He is a left-arm fast bowler and left-handed batsman. He took more than 90 wickets in his first 21 Tests and averaged in the mid-30s with the bat. He was awarded the International Cricket Council's 2009 "Cricketer of the Year" award, the Sir Garfield Sobers Trophy on 2 October 2009.
Contents
* 1 Career
o 1.1 Tests
o 1.2 One Day Cricket
* 2 Awards
o 2.1 Australia
o 2.2 Individual
* 3 Test Centuries
* 4 Personal life
* 5 References
* 6 External links
Career
When attending a fast-bowling clinic in Brisbane at age 17, former Test fast-bowler Dennis Lillee identified him as a "once-in-a-lifetime prospectLillee contacted former team mate Rod Marsh and arranged for Johnson to join the Australian Cricket Academy in Adelaide
Johnson fields in a tour match against Northamptonshire during the 2009 Ashes
Johnson subsequently played for the Australian Under-19 side that toured England in 1999, however recurrent back injuries hampered his prospects. He recovered to start his first-class career two years later, when he was selected to play state cricket for his native Queensland. Playing for Queensland against New Zealand, Johnson hit a six off the first ball he faced in first-class cricket. In September 2005, he was in the Australia A cricket team that toured Pakistan.
Johnson switched from the Queensland Bulls to the Western Warriors on 25 July 2008.
Tests
Johnson was chosen to be in the squad for the first Ashes Test beginning on 23 November 2006, but was 12th man in all of the games.
On 10 November 2007, while making his Australian Test match debut against Sri Lanka at his home ground in Brisbane, Johnson took his first wicket, that of Thilan Samaraweera, caught by Adam Gilchrist. Johnson went on to take 4/96.
On 19 January 2008, Johnson scored his first ever Test half-century, against India in Perth, having being both dropped and bowled off a no ball, although Australia ended up losing the match.
On the second day of the First Test against South Africa in Perth on 18 December 2008 Johnson took seven wickets for just 42 runs, including five wickets for two runs near the close, to reduce the tourists from 3/234 to 8/243. He ended with 8/61 the next day. Later in the series he made 64 batting with Michael Clarke.
The 2009 tour to South Africa saw an important development in Johnson's armoury, the ability to consistently swing the ball into the right-hander, which he previously had struggled to achieve. During the First Test, on 27 February 2009, Johnson scored 96 not out, to help Australia post 466 all out. This included one over in which he scored 26 runs off the bowling of Paul Harris, hitting two fours and three sixes, the last of which carried out of the stadium and broke the record for the most runs in an over for Australia in a Test match. He also took eight wickets with the ball.
In the Second Test, he unleashed a fiery spell of fast bowling that gained him two wickets in his first over, and three in his first spell, as well as sending both Jacques Kallis and Graeme Smith off, retired hurt. After this, notable cricket commentator Peter Roebuck described him as the best fast bowler in the world.
In the Third Test, with Australia almost defeated, he struck 123 not out, reaching triple figures in only 86 balls. With tail-ender Bryce McGain for company, Johnson decided to take on the bowling and struck Dale Steyn for six to reach his century. Although Australia went on to lose the Test match by an innings, Johnson was named man of the series, with 16 wickets and over 250 runs in 3 matches.
During the 2009 Ashes tour he was criticised for his poor bowling and his lack of control. Johnson's position as spearhead of the Australian seam-attack was called into question, with match figures of 3/200 in second Test at Lords and his demotion to first-change bowler in Australia's tour game against Northamptonshire. In the match against Northamptonshire, he returned 1/107 from 18.1 overs as Australia won by 135 runsDespite his poor form he was selected for the third Test consequently re-discovered some form in the fourth test taking 5/69 in the second-innings.
mitchell johnson
mitchell johnson
mitchell johnson
mitchell johnson
mitchell johnson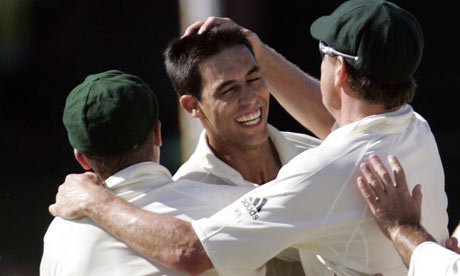 mitchell johnson
mitchell johnson
mitchell johnson
mitchell johnson
mitchell johnson
mitchell johnson
mitchell johnson
mitchell johnson
mitchell johnson
mitchell johnson
mitchell johnson
mitchell johnson
mitchell johnson
mitchell johnson
mitchell johnson
mitchell johnson
mitchell johnson
mitchell johnson
mitchell johnson
mitchell johnson
mitchell johnson
mitchell johnson
mitchell johnson
mitchell johnson
mitchell johnson
mitchell johnson
mitchell johnson
mitchell johnson
mitchell johnson
mitchell johnson
mitchell johnson
mitchell johnson
mitchell johnson
mitchell johnson
mitchell johnson
mitchell johnson
mitchell johnson
mitchell johnson
mitchell johnson
mitchell johnson